10 Expert Tips on How to Avoid Drilling into Wires and Pipes
Both DIY enthusiasts and professionals may frequently need to drill through walls. However, the hidden dangers of the pipes and cables in your walls can make a straightforward undertaking into an expensive catastrophe. We'll provide you 10 professional tips in this guide on how to avoid drilling into wires and pipes.
How to Avoid Drilling into Wires and Pipes
1. Rule Out the Obvious :
Any strange extensions or box portions are probably concealing anything significant because builders normally avoid making unconventional wall designs. Don't consider these regions to be danger zones.
2. Identify Safe and Danger Areas
Learn about the building rules in your area to identify the drilling safe zones. They can extend horizontally or vertically from switches or appliances for electrical wiring. Pipes for plumbing might run vertically or horizontally from fixtures or be located next to radiators.
3. Understand Wiring Regulations
For information on where to place cables within walls, be aware of the wiring laws in your area (for example, the 17th edition in the UK).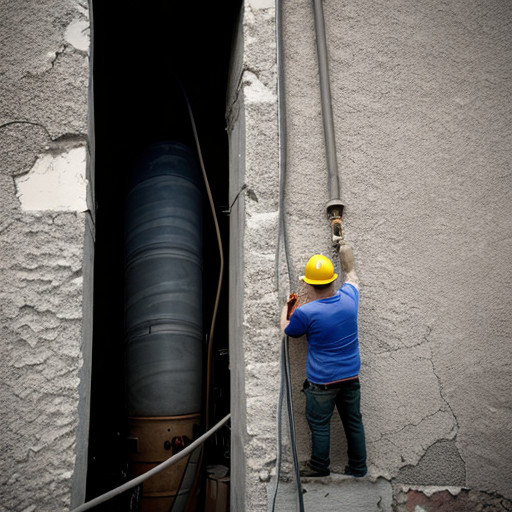 4. Use a Wall Detector
Purchase a trustworthy wall detector with a display indicator. Be careful since foil insulation could cause some detectors to respond. Pay particular attention to the display's metal detection distance range.
5. Drill with a Blunt Bit
Use a blunt masonry bit when drilling the majority of wall materials, such as plasterboard, brick, and blocks. Sharp bits are not required and may increase the chance that hidden components will be damaged.
6. Check While Drilling

Check for any odd resistance or vibrations during drilling. If you think you may have hit something, halt and look around before moving on.
7. Use an Insulated Screwdriver
Insert an insulated screwdriver into the hole to check for blockages if you're unclear of what you've encountered. Before doing so, be sure the electricity is turned off.
8. Verify with a Torch
Enlarge the hole and look through it with a torch to get a better idea of what's going on behind the wall. This aids in identifying the material of the wall and any potential obstructions.
9. Avoid Picture Hooks with Nails
For solid walls, picture hooks with nails are inappropriate. For improved stability and safety, always use plugs and screws.
10. Double-Check for Metal Studs
Be cautious in modern homes with metal studs. Detectors can pick up on these studs, which may also hide cables and pipes.
Common Danger Zones in Walls : Comparison Table
| Danger Zones | Possible Hazards |
| --- | --- |
| Box sections | Concealed pipes or wires |
| Near radiators | Plumbing pipes |
| Switches/appliances | Electrical wiring |
| 150 mm from ceiling | Vertical wiring |
| 150 mm from corners | Wiring and plumbing |
| Metal studs | Hidden cables or pipes |
Conclusion
Drilling into walls safely needs caution and the appropriate equipment. You can confidently complete your drilling operations while lowering the danger of expensive mishaps and damage to pipes and cables concealed in your walls.
Hope you will follow these 10 professional advice mentioned above. Keep in mind that a few extra minutes of precaution can prevent hours of repairs and costs.
FAQ : How To Avoid Drilling Into Wires & Pipes
1. Is it always safe to assume that pipes and cables will follow regulations?
No, rules differ, and more aged structures might not comply with modern norms. Be cautious at all times.
2. Can wall detectors detect all materials?
No, foil insulation might cause some detectors to respond. Always perform a visual assessment as a second check.
3. Can I use sharp drill bits for drilling into walls?
In order to reduce the chance of injuring hidden elements, it is safer to use dull masonry bits.
4. Are picture hooks with nails suitable for solid walls?
These aren't suggested for solid walls, no. For stability and safety, always use plugs and screws.
Our Other Popular Articles
If you are also looking for some excellent deals and a guide on the best Gas Stove, you can check our other article as well.