How to Protect Lives and Homes from Sudden Tropical Hurricane Storms
A hurricane sometimes appears all of a sudden, surprising everyone. It can suddenly change direction, speed, and strength. So you have to be careful about your valuable lives, properties, and papers.
It will be wise for all of you to leave your house prior to the storm and take shelter in a safe place to secure your valuable lives. Papers can be secured easily by keeping them inside a bank locker. You can choose a bank far from that hurricane zone to protect your papers or documents further.

But what about your house? You can neither relocate it nor carry it with you unless it is a caravan. In this article, we will focus mainly on tips and tricks on how you can protect your dream house from this natural disaster that happens almost every year.
Protection From Hurricanes
To protect your family's safety and wellbeing, it is essential to prepare for a hurricane. You can reduce the hazards associated with hurricanes by making preparations in advance and using the advised safety measures. You will also be better prepared to handle any difficulties that may emerge.
Before the Storm
1. Maintain Knowledge:
Set up regional SMS and email alerts to get notifications of impending storms. Follow local news and weather reports to stay informed.
2. Hurricane proof house:
Install hurricane shutters or impact-resistant glass in windows and doors. To strengthen weak regions, reinforce garage doors and think about installing bracing systems. To keep them from becoming targets or accelerators, prune dangling branches of trees .

To maintain appropriate drainage, clean the gutters and downspouts. Secure any loose things in your yard and anchor any outdoor furniture. Additionally, think about purchasing flood insurance, and store valuables and critical papers in a secure location that is waterproof.
3. Find Shelters:

Learn the whereabouts of nearby shelters in case you need to evacuate. Have a family meeting venue planned and a designated contact person for communication.
3. Prevent Flooding:
To stop floodwater from backing up into your home, install check valves and sewage line guards. Build up a supply of emergency safety gear, including sandbags, plastic sheeting, and plywood.
4. Special Needs and Documents:
If you have relatives with special needs, ask local officials about the assistance they offer. Passports and other critical paperwork should be kept in a central area and kept in waterproof bags.
What to Do During a Hurricane
1. Seek Safety:
Avoid windows and glass doors, go to the lowest level of your house, and seek shelter in a room inside your home, a safe room, or a closet. Keep an eye on the Federal Emergency (FEMA) updates and cover your head with a mattress or pillow.
2. Avoid Flooded Areas:
Even what appears to be low-lying waters can be rapid and dangerous, so avoid driving or walking across flooded roadways. If there is flooding, move to a higher location.
3. Be Careful About Electric Lines:
Until power is restored after the storm, keep circuit breakers off. When required, check for frayed wires and call the electricity company. If there are downed electrical lines, structural issues or gas odours, don't go inside your house. Obtain advice from experts before reentering.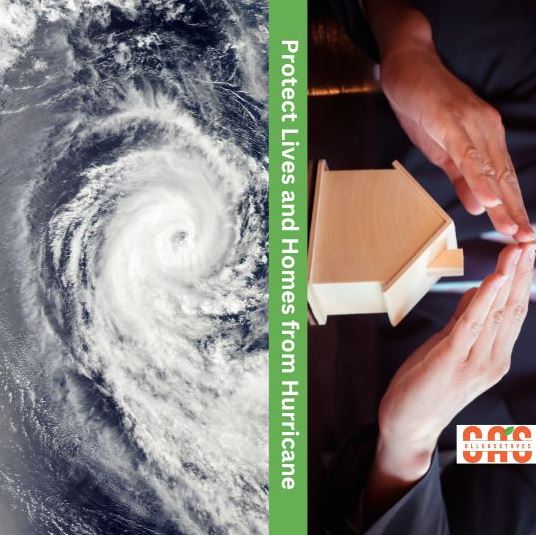 Post-Storm Safety Measures
1. Safety precautions:
Be careful when clearing up after a hurricane to avoid accidents. Stay away from flooding since they could contain garbage, sewage, and dangerous objects. Don the necessary safety gear.
2. Water & Food Safety :
Regarding the safety of tap water, heed the advice of your local authorities. If required, boil the water and use a water filter. Food that has been in contact with floodwaters or that hasn't been properly chilled should be thrown away.
3. Clean and Disinfect :
Since floodwater may include bacteria, sewage, and chemicals, thoroughly clean and disinfect anything that has come into touch with floodwater.
4. Hurricane Season :
The Atlantic hurricane season lasts from June 1 to November 30 with its peak being between mid-August and late October. The period from May 15 to November 30 is known as the Pacific hurricane season.
Conclusion
You can save your lives and protect your property by making proactive preparations for hurricanes. Take the correct safety measures both before and after the storm. During hurricane season, checkout the alerts, notifications, educate yourself, and put your family's safety first.
Disclaimer
This essay does not cover every circumstance that could arise and should not be used in place of consulting a specialist. In a hurricane or any other emergency situation, heed the advice of local authorities and seek the advice of pertinent specialists.
If you are also looking for some excellent deals and a guide on the best Gas Stove, you can check our other article as well.
Read our garden related article :