Ant Droppings vs Termite Droppings: Find Top 3 Differences
Confused to identify the ant droppings vs termite droppings? To effectively determine the type of pest infestation, it is crucial to understand the differences.
An Overview
You will learn more about the uniqueness of ant and termite droppings in this article, including their size, shape, and color. You may handle the pest problem in your home by taking early and proper action by being familiar with these variations.
Your Approach
Common household pests like termites and ants can seriously harm a home if left unchecked. Examining their droppings is one approach to determine their presence. To effectively deal with the infestation, it is essential to distinguish between ant and termite droppings.
You can precisely recognise the sort of pest infestation and take the necessary steps to get rid of them from your house by being aware of these differences.
What are Ant Droppings ?
Ant droppings, sometimes referred to as frass, can take on a variety of forms depending on the ant species. They usually resemble coarse black pepper and are tiny and granular. Some species produce droppings of a different size and form than others, and the size and shape can vary. Additionally, ant droppings might be black, brown, or reddish-brown in colour.
What Do Termite Droppings Look Like ?
Termite Droppings often have a characteristic look. They frequently have a cylindrical shape and are lengthy, resembling microscopic grains or pellets. Termite faeces can be any shade of brown, including light, dark, or even black. Near affected regions, termite frass may gather in little mounds or piles.
Key Distinctions – Ant Droppings vs Termite Droppings :
The size and shape of the droppings is one of the main variations. Termite droppings are lengthy and pellet-shaped, but ant droppings are typically smaller and more granular. Additionally, compared to termite droppings, which often have a consistent colour, ant droppings can display a larger spectrum of colours.
| | Ant Droppings | Termite Droppings |
| --- | --- | --- |
| Size | Smaller | Longer |
| Color | has various colors | uniform color |
| Shape | granular | pallet-shaped |
Determining If There are Ants or Termites Present:
An extensive inspection and period of observation are required to identify whether you are dealing with ants or termites. Other indications of infestation, such as wings left behind or structural harm, can assist establish the existence of termites. It is frequently possible to see ant trails and nests, which adds to the evidence of ant activity.
Time to Take Proper Action :
After determining the kind of infection, you can take the proper steps. There are several do-it-yourself ant control strategies available, such as baiting and plugging entry points.
However, because of the significant damage that termite infestations may inflict, expert treatment is usually necessary. To decide the best line of action for effective termite removal, consult a pest control expert.
Termite Killer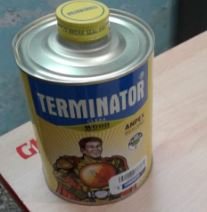 Eco-friendly, Refill Pack
For Home, store house, garage, kitchen
Wooden materials
Type – Spray
Weight – 1000 gm
Brand – Pidilite
Targets – Termite Insects
Conclusion

For reliable pest identification, distinguishing between ant and termite droppings is essential. You may handle the infestation and defend your house by taking the necessary action by being aware of the variations in size, shape, and colour. Consult a pest control specialist for a thorough inspection and customised treatment plan if you're unclear of the sort of pest or need assistance.
If you are also looking for some excellent deals and a guide on the best Gas Stove, you can check our other article as well.
Few more on kitchenwares –