How To Clean Gas Stove Top Grates?
Do you ever wonder how to clean gas stove top grates or any type of stovetop with grates? It is a very problematic technique to clean the stove top grate. Cleaning your stovetop is a perfect way to make the kitchen look nice.
After sweeping the crumbs or wiping the surface, you have to pay attention to the ignored component of your cooktop- the stove grates. Gas stoves are perfect as you can control the cooking temperatures and get instant heat without waiting for a long time.
If your gas stove looks untidy, you don't need to be worried. You have to try accurate methods for cleaning the gas stove grate to make your kitchen look clean and tidy. We have written a detailed article to help you resolve this issue with the right techniques.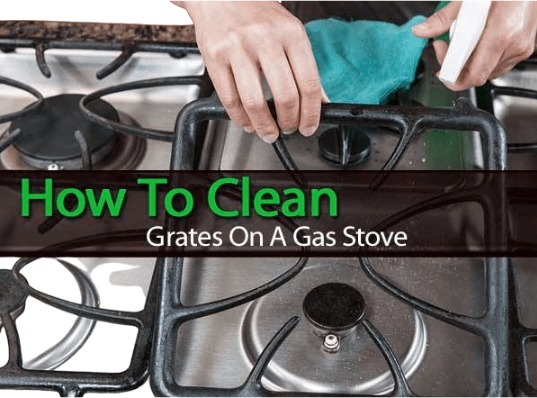 Before you begin cleaning your gas grates and burner tops, you must have the following supplies and tools, so please make sure you have them all.
Things you need
● Non-abrasive scrubbing pad
● Straight pin, needle, or small-gauge wire
● Bristled brush
● Damp cloth
● Cooktop scraper
● Screwdriver
Supplies
● Soap
● Cleaning solution
● Water
● An abrasive cleaner
Following are the steps on How To Clean Gas Stove Top Grates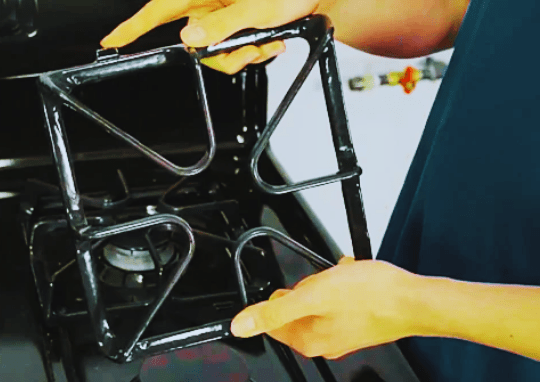 Step 1: After removing the cooking grates and burner caps, disconnect the wires. Make sure the surface is cooled. As there are different models of gas stoves, many of them need a screwdriver to remove burner caps. If you have a range with a standing pilot, turn off the gas valve before removing any port.
Step 2: After doing step 1, soak the grates and burner caps in hot, soapy water for at least 20 minutes. If you have a cast-iron stove top, don't soap it in hot water until it is completely coated. If you are unaware of the coating procedure, look at the instructions on that grate.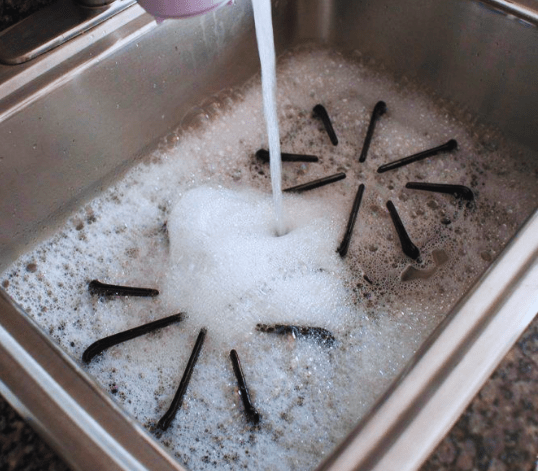 Step 3: If the grate is extremely dirty and clumsy, create a baking soda mixture by adding three tablespoons of baking soda to water. Coat the grates in this tub of water and leave them for at least 30 minutes.
Step 4: Using a non-abrasive pad, wipe the burners with a cleaning wipe or soft cloth. If you have previously coated the burners, rinse this off to avoid damage. Place the burner ports and tubes underneath the burner base and remove the tubes. After doing so, clean the clogged burner port openings with a straight pin, needle, or small-gauge wire.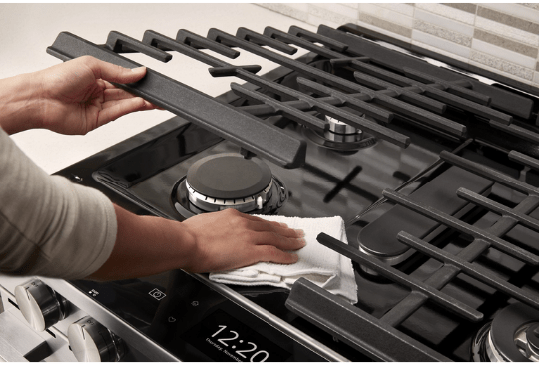 Step 5: Before moving to the next step, ensure you have cleaned and dried the burner caps and grates with a dry piece of cloth. After drying, reconnect the tubes and replace the burner and burner caps.
Step 6: Now, make sure you have perfectly cleaned the grates and burner caps. Dry the grates and place the grates. After placing them, make sure that they are stable above the burners.
Safety Precaution:
For safety purposes, do not use oven cleaners or rust removers to clean the gas stove top. In addition, do not use wooden toothpicks for cleaning purposes.
Final Verdict
We hope that after reading this article, you will be able to clean the stovetop grate within a few minutes. Clean and tidy grates give the kitchen a nice look. We have also shared some information about gas stove safety on our website.
You might also find our other helpful articles interesting.
1. What happens If You leave an Electric Stove On?
2. How To Clean Gas Stove Top Grates?
3. What temperature is simmer on the stove?
4. KUCHT Vs ZLINE – Which is best for you?
5. What Should You Do If You Leave The Gas Burner On Without a Flame?