Are you in the market for a new gas stove? If so, you're probably trying to decide which one is the best fit for your needs and budget. In this post, we'll explore some of the best 4 burner gas stoves under 5000 rupees. These stoves are a great value, offering features and performance that beats many expensive models. So, if you're looking for an affordable option that delivers quality results, you have to keep reading this article till the end!
A stove is one of those things that you might not think about very much, but it's an integral part of your kitchen that can make various tasks much easier. A gas stove with 4 burners is a great investment for those who want to cook large meals with little hassle.
The Indian cookware market is growing at a whopping 15% which has helped millions of houses, restaurants, and hotels to take up gas stoves as an alternative to the usual cooking methods. This has resulted in increasing demand for 4 burner gas stoves. Four burners are considered premium because they give you greater flexibility over temperature settings.
Nowadays, with the improvement in technology and materials used in manufacturing these gas stoves, you can get a good quality stove for under Rs.5000. In this price range, you will find both branded and unbranded models.
This blog post will provide you with some of the top-rated options their features, specification, and details. we would like to tell you that the selection of all these products and the entire research is based on existing customer ratings and reviews of the product. and we hope this article will help you find what you are looking for.
IMPORTANT FACTORS To CONSIDER BEFORE BUYING A 4 BURNER GAS STOVE UNDER 5000.
1. Design & Material
Most gas stoves have stainless steel bodies, you can also choose fiber or glass top gas stove as per your convenience. Toughened glass has some impact resistance but it has no defense against its expansion due to heat. These black glass top gas stoves are beautiful but they can break due to heat. Stainless steel cooktops are durable and therefore it is better to choose stainless steel with a matte finish. Remember if you go with your glossy finish then fingerprints and scratches on the cooktop will be visible easily.
2. Type of Ignition
There are two basic types of ignition in a gas stove, manual and auto. In manual ignition we can use, a matchstick or lighter, and the auto-ignition gas control knob automatically ignites the burners. Multi spark auto-ignition is a good option but you may need a battery for this.
3. Type of Gas Supply
Nowadays there is a variety of gas supplies in the house like LPG, PNG, and Biogas. Before buying gas, check whether the cooktop is tested with the gas supply that you have at your home. The pressure of PNG is usually less than that of LPG.
4. Number Of Burners
Gas stoves with two burners or three burners are most common and widely used in India. These gas stoves are typical for a family of two, three, and four members. You must choose a gas stove while keeping in mind your family's actual daily usage and cooking needs. A frequent complaint with cooktops with more than two burners is that sometimes all of them do not work together so be sure to check this while buying a gas stove.
You should also check one thing if you are going for a four-burner gas stove or three-burner gas stove, that the burner and pan support are well-positioned and allow enough room for utensils of various sizes without problem, which is a common complaint with gas stove with more than two burners. The distance between the burners should be enough to hold two large pots like kadhai and pressure cooker together.
5. Brand
There are many brands that manufacture gas stoves under 5000 Rupees, and each one has its own unique selling points. Some may be more reliable than others, some might have more features, and so on. It's important to do your research before settling on one brand.
I'm not saying that you should choose the most expensive model available, but if you go with an unknown player then there's no telling what you're getting yourself into. Sure, it might be a great product – but it could also be a dud.
6. Size of Gas Stove and Cleaning Factor
Gas Stoves made of glass or fiber are easier to clean and look great in your kitchen. Although it is costlier than stainless steel. However, make sure that you choose a gas that requires less space. Therefore, there will be space left in your kitchen to keep extra cooking items.
7. Heat Control knob
Heat control knobs are available in almost all gas stoves, so you can set different temperatures for different types of food.
8. Functionality
Again, this factor will vary depending on what you need. If you're a busy person who doesn't have time to cook elaborate meals, a model with multiple burners might be ideal for you. On the other hand, if you only need something to heat up water or food occasionally, a single-burner stove would suffice.
Make sure to think about how you'll be using the appliance before making your purchase – it could save you a lot of hassle down the road!
9. Price
Since we're talking about appliances which cost less than 5000 Rupees, I will assume that price is an important factor for you. Indeed, we cannot expect these products to last for years and offer the same range of features as more expensive alternatives.
The good news is, appliances in this segment don't have too many moving parts which may break down and thus there's less chance of buying a lemon. If something does go wrong, it can be easily fixed without having to buy a whole new stove! Of course, your choice must be based on how much you're willing to spend and what features you require the most. There's no point in snagging a super-expensive model if all you need is basic functionality – save your money instead of burning it!
10. Warranty
Make sure to check the warranty on the stove you have bought. Glass top should have a separate replaceable warranty even if you are not buying an international brand gas stove, it is very good if the cooktop is BIS or ISI certified.

Below we have listed the Top 10 Best 4 Burner Gas Stoves under 5000
Butterfly Smart Glass Top is the product of Butterfly company in which you get four brass burners. In this gas stove, you get a smart glass top that enhances the product look and gives you a Smarter Kitchen Experience.
The Smart Lock Pan feature ensures stability when we keep utensils on the cooktop. In this, you also get stainless steel spill tray, which reduces the risk of rusting and there is no problem in cleaning.
The Gas Stove comes with an efficient brass burner that distributes heat evenly, resulting in a quick and even cooking procedure. With the Heat Retarded panel on this Gas Stove, you may cook for extended periods of time without worrying about overheating the food. It also has non-skid feet, which add to its overall stability. Powder coating provides a scratch- and chemical-resistant surface for the body. Overall this is a complete powerhouse that will give you an amazing cooking experience.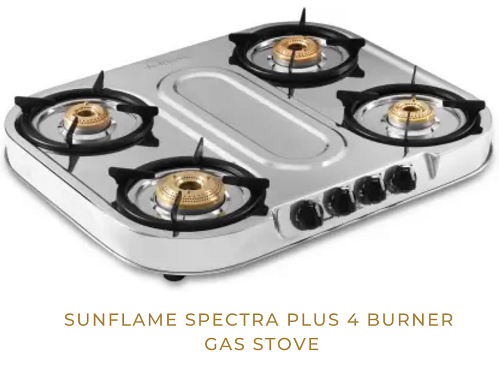 Sunflame Spectra Plus is the product of the Sunflame brand. Gas Stove has a high-quality stainless steel body with a glossy finish that ensures the product's durability and lifespan. Four high-efficiency brass burners (1 Super Big, 1 Big, and 2 Small) enable consistent heat distribution on the kitchenware and give you a better cooking experience.
The cooktop has stainless steel spill-proof drip tray that has no holes and prevents any spilling and because of its durable and strong construction, the pan supports can fit all major pan sizes. This also has Ergonomic and safe-handling knobs that provide not only beauty and safety, but also quick and easy access to lighting the stove. This product comes with 2 years of warranty.
Faber cooktop comes with Anti Leak technology and high-quality Indian Brass Burners which gives you assurance of safety from Fire. The combination of burners allows you to cook both light and heavy foods at the same time with ease.
A cooktop has Toughened Glass which is durable and scratch-resistant. It has an exquisite appearance and contributes to the attractiveness of your kitchen. All major sizes of pan and topes can easily accommodate this Gas Stove. It has stainless steel fixed Spill-proof DripTray which avoid all kind of spillage below the cooktop. This product comes with 2 years of warranty.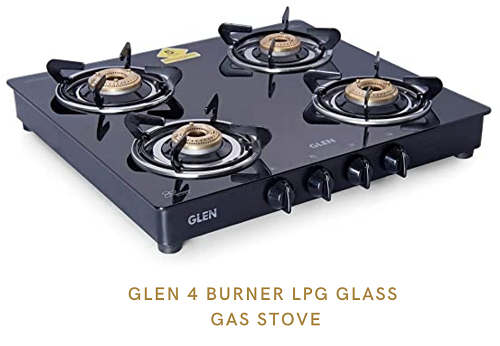 The Glen Black gas stove is an upgrade to our standard gas stoves. It comes with toughened black glass top with a powder-coated body. A cooktop consists of 4 efficient brass burners, 2 Big and 2 Small Burners. The powder-coated body is rust-resistant and scratch-resistant. The Gas Stove has Sturdy pan support to accommodate heavy utensils with ease. Also, a Fixed Stainless steel drip tray is given on the stove for cleaning food spillages.
The Gas Stove has a 360-degree revolving nozzle on the backside and Anti-Skid Feet for stable cooking. Smoothly working high-grade knobs are included on the stove for a solid grip and trouble-free operation in the long term. This Product comes with 2 years of warranty.
This gas stove is a product of Pigeon Company, in which you get 4 Effective Tri-Pin Brass Burners and a Compact design to suit your kitchen. The Gas Stove, comes with 2 Big Size Burner and 2 Small Burners and has a stainless steel body at the bottom and toughened glass on the top.
The Gas Stove has a unique spill-proof design that prevents any kind of spillage. The brass burners distribute an equal amount of heat for faster cooking, and due to its sleek design, this 4 burner stove is very easy to clean. Finally it has an easy-to-clean deep tray and a warranty period of 2 years.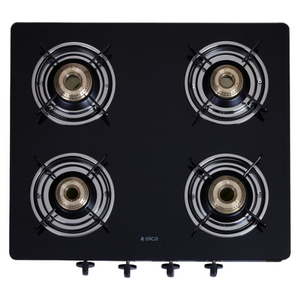 This product is a high-end stove, it has an elegant glass top and premium finish. It's made of toughened glass which is resistant to rust and scratches. The stove comes with 2 years warranty on the product and 7 years warranty on the grid supports. Aesthetically designed, this product will be a great addition to your kitchen!
This gas stove is a perfect blend of style and utility. The top surface is made of toughened glass which makes it durable and long-lasting. The body of the stove is powder-coated in black color to make it look stylish. The legs are skid-resistant polymer which enhances your convenience as well as stability during the cooking or heating process.
Gas Stove comes with 4 burners, 2 big and 2 small-sized burners for all types of cooking needs. This product has been tested on various parameters to ensure that you get the best quality product at your doorstep without compromising
Pigeon by Stovekraft Blaze Blackline Glass 4 Burner Gas Cooktop is the latest addition to the gas stove market It has a compact and conveniently shaped design, with an easy-to-clean drip tray. This gas stove features designer toughened glass to sustain high temperature and strong tubular rubber legs for a firm grip. The unbreakable knobs have a unique design for better balance.
The Pigeon cooktops are manufactured using high-quality materials that ensure durability along with precision in performance. These cooktops have been crafted keeping in mind the safety of your
Thermador gas stoves are the ideal blend of design and utility. The sleek black design will complement any kitchen decor, and the sturdy, shatterproof glass top is durable and simple to clean. But it's not only the appearance that makes Thermador gas stoves appealing; the heavy-duty pan supports sturdy cooking pots, and the brass burners ensure maximum performance and efficiency.
In addition, the royal black coating on the body protects against corrosion and helps extend the product's life. Safety is of utmost importance, and Thermador gas stoves adhere to all ISI and RoHS safety regulations. So, if you want a gas stove that looks good and performs even better, Thermador is the brand to go with.
Sunflame, which has been present in Indian kitchens for over three decades, has always tried to provide homemakers with cutting-edge technology and to make cooking a rich and joyful experience. ELEGANT & COMPACT DESIGN, HIGH-QUALITY KNOBS, BRASS BURNERS, EASY TO CLEAN are some of the best features that comes with these gas stove. The stoves drip trays are ideal for absorbing any spills on the cooktop and are very easy to clean. The stainless steel construction not only enhances its aesthetic appeal, but it also ensures its long-term usability.
The product has a two-year warranty. It is available in a variety of sizes to meet your needs. You can pick the one that best meets your needs. The device is good value for money and a must-have in any kitchen.
FAQs on Best 4 Burner Gas Stove under 5000
Q.1. Why should I buy a 4 burner gas stove?
A 4 burner gas stove is a great option if you have a large family or entertain often. It provides more cooking space so you can prepare multiple dishes at once. Additionally, it evenly distributes heat to all burners, making it perfect for cooking big meals.
Q.2 Which are the best 4 burner gas stoves under 5000 in India?
Some of the best brands of 4 burner gas stoves include Prestige, Butterfly, Sunflame, Pigeon, and Sunflame. While there are many other brands available, these five are some of the most popular and trusted names when it comes to cooking appliances. You can find 4 burner gas stoves manufactured by any of these brands in most big retail outlets or purchase them online here.
Q.3 Which are the best features of a 4 burner gas stove?
There are many great features that come with a 4 burner gas stove. One of the best features is the fact that it provides even heat distribution. This is perfect for cooking multiple items at once or for large items that need to be cooked evenly. Another great feature of 4 burner gas stoves is that they tend to have more powerful burners. This means that you can cook food faster and at higher temperatures if needed. Finally, 4 burner gas stoves usually have a better warranty than other types of stoves. This means that you can feel confident in your purchase.
Q.4 Is a 4 burner a good idea?
Yes, Buying a four burner gas stove is an good idea.But there are a few things to consider when deciding if a 4 burner gas stove is the right choice for your kitchen. The first is the size of your kitchen and how much counter space you have. If you have a small kitchen, then a 4 burner stove may be too big and bulky. The second thing to consider is how often you cook. If you only cook occasionally, then a 4 burner stove may be overkill. Finally, consider your budget. A 4 burner gas stove can be bit expensive, so make sure you can afford one before making your purchase..
Q.5 What should I consider when buying a 4 burner gas stove?
The most important thing is to make sure that the stove will suit your needs in terms of size and function and how easy is it going to be to clean and maintain after each use. You should also make sure that the stove is made from high-quality materials that will last for many years. Additionally, it is important to compare prices and features of different models before making a final decision. By taking all of these factors into consideration, you can be sure to find the perfect 4 burner gas stove for your home.
Q.6 What are the benefits of having a 4 burner gas stove?
There are many benefits to owning a 4 burner gas stove. One of the most obvious benefits is that you can cook faster and more efficiently because there are four burners. This is an especially good choice for people who like to entertain guests or cook for a large family. 4 burner gas stoves give additional space and flexibility, as well as more efficient cooking. You can prepare many items at once, which means you'll spend less time in the kitchen overall.
Q.7 How much should I expect to spend on a 4 burner gas stove?
The price range for 4 burner gas stoves can vary widely, from around Rs.2500 to Rs.20000 or more depending upon brand and the specifications. It is important that you do your research and finds the best deal for what you need and it is already done for you in this article by our team of experts so that you do not end up spending more than you have to. You should also consider any additional features that might be offered with the product, such as a warranty or after-sales service.
Conclusion:
In conclusion, it is concluded that the above-mentioned stoves are the best 4 burner gas stoves under 5000 which provide a balanced cooking and a perfect cooking experience, the features provided with this product are more than expected. It provides long-lasting performance and is easy to use and clean. This entire article makes sure that you will buy the best gas stove ever.