Difference between Gas Stove and Hob – Complete Guide 2023
Gas stoves and hobs are vastly different in terms of usefulness and appearance. While gas stoves may appear to be a straightforward cooking option, modern hobs offer a variety of benefits and are growing in popularity among homemakers of all ages.
As our demands and lifestyles change, so do our needs, and to fulfill those needs, continual innovations are made. To make cooking more convenient and efficient, several brands have introduced a variety of gas stoves and gas hobs.
But if you're not sure what the difference between gas stove and hob is, You've come to the right place; I've provided detailed information about the stove and oven on this page.
In this article, we explain to you the essential difference between the gas stove and the hob. So let's get started.

BELOW ARE THE DIFFERENCE BETWEEN GAS STOVE AND HOB.
1) STRUCTURE AND DESIGN
For years, our traditional gas burners have been the heart of the kitchen. We are well aware of the benefits and aesthetics of a raised cooktop. Gas Stoves and raised cooktops are simple to operate and maintain, with a projecting design.
They have raised legs that are usually non-slip and provide a stable platform base. Furthermore, a gas stove makes it simple to keep an eye on the cooking while also cleaning.
However, compared to a gas hob, the gas stove may appear too big and bulky in the kitchen. A gas hob has a highly smooth shape with no edges or borders, and it has a very slim design due to which it feels like it is ingested into a kitchen platform.
This gives you plenty of space while also providing your kitchen with a tidy appearance. The kitchen top has a hob installed, so it can be hard to move it from one place to another.
It's also difficult to replace because of this. A gas stove is not fixed to the kitchen counter. It is portable and replaceable.
2) FUNCTIONS & HEAT CONTROL
Built-in hobs have advanced features as compared to gas stoves. They have incredibly smooth knobs and controls, and they come in both gas and electric versions.
They also have various built-in features, such as sensors and alarms, to prevent overcooking and food burning. Gas hobs also come with a variety of heat control choices to accommodate your cooking preferences.
Multi-flame options are also available on modern hobs, allowing you to control the inside and outer flames separately—this aids in achieving the ideal cooking temperature and producing a precise and uniformly cooked dish.
The burners of kitchen hobs have a cast iron coating, which is an excellent heat conductor and long-lasting and durable. In the case of gas hobs, one disadvantage of their functionality is the flame level.
This is due to the burners being set to European standards, which only produce modest flames. However, several Indian companies have added double-ring burners to produce high flames following Indian cooking regulations.
Gas stoves, on the other hand, are convenient to use but lack sophistication. It uses the traditional cooking and heating methods of turning the knob to adjust the flame. To avoid overcooking and burning, make sure the meal is preserved for the appropriate amount of time.
Gas stoves have relatively limited heat control choices. It doesn't have any sensors or alarms, so everything has to be tracked manually.
3) INSTALLATION
Gas Stove: Gas burners must be installed on the platform, and the pipeline must be linked in accordance with your LPG cylinder. As a result, installing a gas stove is simple and requires minimal work.
Furthermore, because they are portable, we can easily carry them from one place to another, and the position of the gas stove can be changed as needed. It's also simple to replace.
Gas Hob: When it comes to gas hobs, however, the built-in integrated design may require you to alter the whole structure of your kitchen. Any mistakes made during installation or relocating the gas hob may harm your kitchen cabinets or design.
4) CLEANING
Gas Stove: Cleaning gas stoves appears to be quite simple due to the wholly exposed surface and many attachments that make cleaning each section independently very straightforward. Furthermore, if something spills on the gas stove, we can clean it easily by simply moving or lifting it.
Gas Hob: Cleaning a hob is a little tricky as compared to a gas stove. Gas Hobs are not very handy and might need professional cleaning. The ceramic Surface of gas hobs is easily prone to scratches, so they need to wipe carefully. Gas hobs are tightly fixed to the kitchen counter. They are not as easy to clean as gas stoves.
5) SAFETY DIFFERENCE BETWEEN GAS STOVE AND HOB.
Gas Stove: Gas stoves are superior to gas hobs in terms of safety. This is due to the elevated design of gas stoves, which have raised legs set back from the platform. Gas stoves typically have a knob that has a tiny bit of friction and is not as smooth as the controls on a gas hob.
As a result, there's less risk of slippage or damage, and your kitchen won't catch fire. Gas stoves do not directly contact the platform, preventing anything dangerous or combustible from coming into contact with it.
Gas Hob: Gas hobs come into direct contact with the platform. If the knobs or switches are broken, the gas hobs can erupt into huge flames, causing burning and damage to the kitchen. So we need to take extra precautions while handling the gas hob.
We should take special care if we have small children in our family as the flat surface of the gas hob can easily make them reach there.
6) PRICE DIFFERENCE BETWEEN GAS STOVE AND HOB.
It would be expensive to add more functions with a sleek and modern appearance. There is a significant price gap difference between a gas stove and hob, and you will have to pay for gas hob installation separately.
However, in the case of gas hobs, the different flame and heat settings allow you to efficiently use LPG cylinders over the month, which can help you save money on gas. However, gas hobs are more expensive than gas stoves.
So above were some essential differences between a Gas Stove and Hob. Now let's go through the buying guide for a gas stove and a hob.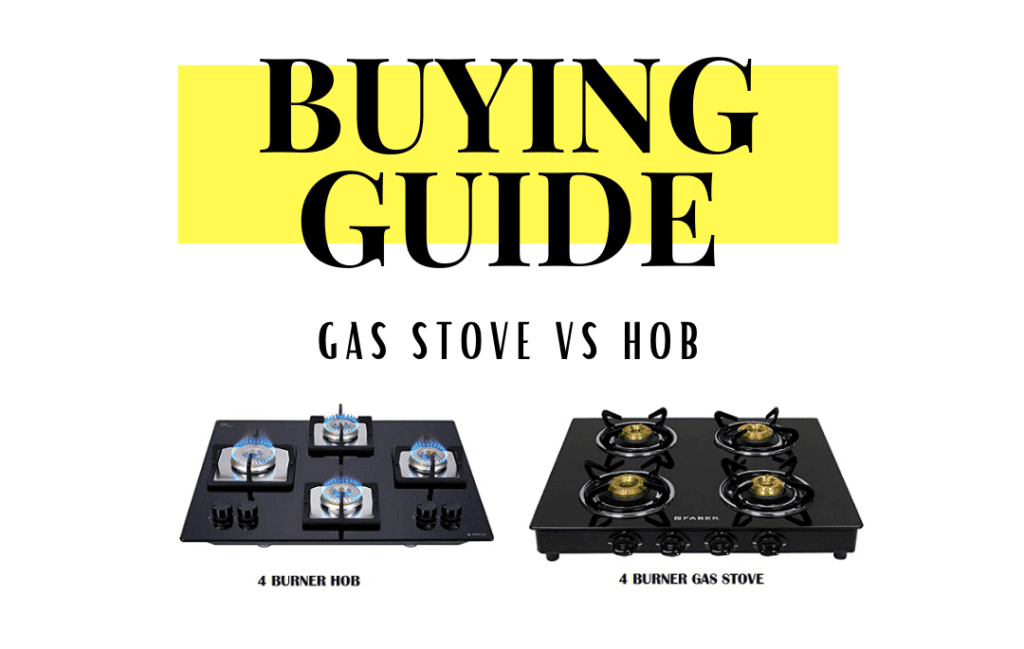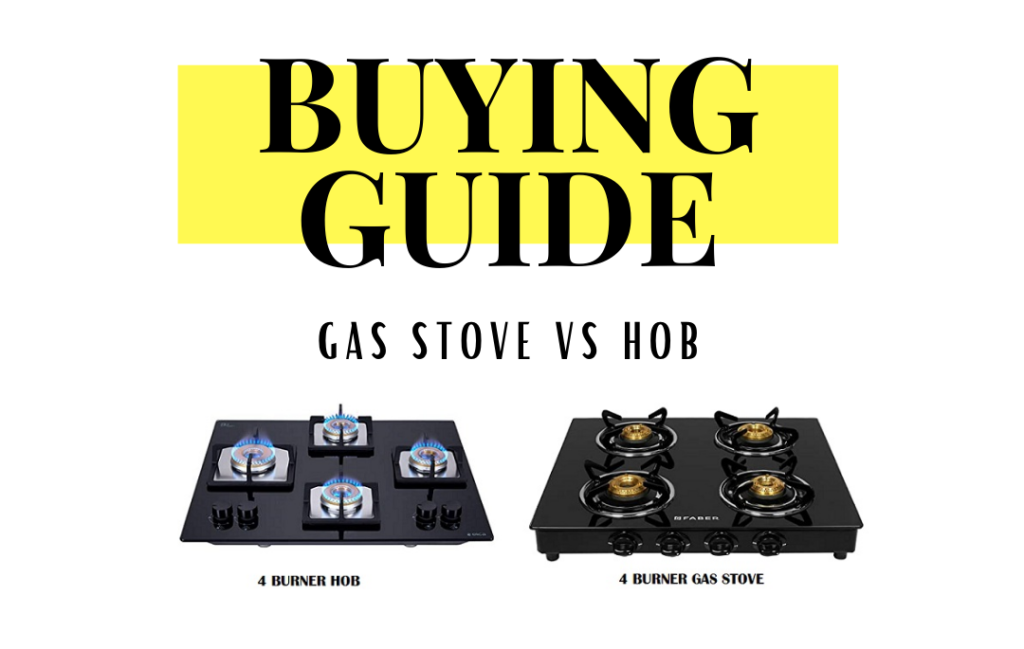 BUYING GUIDE FOR GAS STOVE OR HOB.
1. What Should You Buy A Gas Stove or a Hob?
If you're building a new kitchen or remodeling an existing one, the stove becomes the focal point, and everything else is built around it. Many people prefer hobs for apparent reasons; they look more seamless and integrated into the kitchen.
However, a hob may not always be the best option for your needs; there's also the option of the humble gas stove. so here I will tell you the expert opinion on a critical difference between Gas Stove and Hob.
The significant advantage of a hob is that it gives your kitchen a uniform and integrated look. However, a hob is more challenging to clean and maintain than a gas stove. There are a variety of reasons to choose a gas stove over a hob.

The installation of the Stove does not necessitate the use of masonry.

Cooktops are available in various good designs these days, comparable to hobs; the Difference is that we install gas stoves over the countertop and do not integrate like hobs.

It's much easier to clean and maintain Gas Stoves because you can remove almost all of the Stove parts, including the burners and rings, and clean underneath the cooktop, something you can't do with a hob.

You have a lot more flexibility in placing the cooktop than a Hob, as we need to install hobs to the same position permanently.

Gas Stove is less expensive than the Hob, not just from the cooktop price but also from the installation price.
Other characteristics that apply to both gas and hobs include the type of burner you need to purchase; burners are divided into two categories.
Brass or Aluminium Indian burner

European burner, also known as the Italian burner
It is the European burner, also known as the Italian burner. In some cases, the Italian burner has a single flame rather than the double or triple ring flames that come with Indian burners, resulting in a much longer cooking time.
If you prefer to slow cook your food and avoid spillages, or if you need to boil your dishes for a longer period, an Italian burner is the way to go. However, most Indian households prefer the Indian burner, which is often made of brass, is more efficient, and cuts cooking time in half.
BELOW ARE SOME OF THE IMPORTANT PARAMETERS TO CONSIDER WHILE CHOOSING A GAS STOVE AND HOB.
What Types Of Burner Should You Choose?
Another factor to consider is the type of burner you use (brass or aluminum). How many burners are you going to need? Burners made of brass are more robust and efficient than those made of aluminum.
I believe it is entirely a matter of personal preference and how good you are at multitasking when cooking. If you are extremely good at multitasking, go ahead and purchase a four- or five-burner gas stove or hob.
What's the best way to figure out what flame size  your burners need?
This is an essential parameter that suppliers and manufacturers do not always provide. Because not all burners are the same size, you'll encounter a variety of burners, such as 2 small burners, 1 huge burner, 1 medium burner, 2 large burners, 2 small burners, etc.
Your cooking pattern should determine the size of the flame on your burners.
What Should be the size of the Gas Stove or Hob?
Cooktops and hobs are available in a square or rectangular form. The rectangular ones can be higher than 60 cm up to 90 cm, whereas the squarish ones are usually 60 cm.
What Type of Ignition do You Want?
Manual, battery-operated, and electrical ignition are the three types available for the hob. A battery-operated or electrical ignition is standard on most hobs. Manual ignition does have a few drawbacks. Automatic or manual ignition is now available on gas stoves.
If you choose an electrical option, the second thing to remember is that you'll need an electrical outlet close to your hob.
What Is the Knob's Position?
The position of the knobs is on the front or side of the gas stove or hob. Some people prefer the controls to be on the side if they have small children at home.
What Type of Finish do You Need in Gas Stove or Hob?
The gas stove and the hob are available in stainless steel or tempered glass finishes, primarily in black. Still, I've seen that some of them are now available in colored finishes, so which one you choose is a matter of personal preference and kitchen style.
If you choose the tempered glass option, please note that you cannot place hot vessels on top of the glass since this may cause it to shatter.
CONCLUSION
Are you planning a kitchen renovation but are unsure what to do? So, by describing the fundamental differences between a gas stove and a hob, we have cleared things up for you so that you can make an informed decision before purchasing one for your kitchen.
Please see the article below if you are looking for great deals on gas stoves.
If you are also looking for some excellent deals on our other kitchen related products in India, you can check out our other trending articles as well.
1. Best Electric Beater for Cakes
2. Best Silent Mixer Grinder in India
3. Best Cast Iron Cookware India