Gas vs Wood Fireplace – 10 Compelling Reasons To Choose Gas Over Wood
There are vital points to think about. These can affect your decision when it comes to the age-old argument – gas vs wood fireplace.
Understanding the advantages and disadvantages of each option will help you to choose your home warmth with confidence.
Gas Fireplaces
Less efforts on flames and easy to use but lacks authentic charm and gives less heat output.
For good reasons, gas fireplaces have become more and more popular. They provide unmatched convenience, making it simple to take advantage of a warm and inviting atmosphere at the touch of a button. Some gas fireplaces may still operate in the event of a power loss, offering much-needed comfort during trying times.
Don't Need A Chimney :
The variety of venting choices available with gas fireplaces is an additional benefit. They can be installed anywhere in your house as they don't necessarily need a chimney for venting.
For homeowners who don't have a typical chimney or wish to add a fireplace to a new space in their home, this flexibility is very advantageous.
Environment Friendly :
Gas fireplaces also tend to release less smoke and particle matter, making them cleaner and more environmentally friendly. They are made to be effective, ensuring that you get the most heat out of your fuel without creating a lot of waste.
Pros
less efforts to keep up flames,
easy to use,
lesser maintenance cost,
Cons
dependency on gas supply,
lack of authentic charm,
less heat output,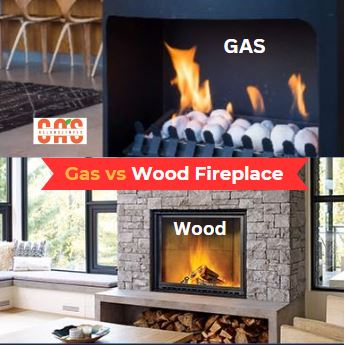 Wood Fireplaces
Cracking sound and authentic but efforts needed, higher cost and bad for the environment.
While many homeowners love the authentic crackling sound and aroma of burning wood, wood fireplaces hold a unique place in their hearts. They provide every property a traditional, rustic atmosphere that accentuates its beauty.
Need More Work :
However, it's equally important to take into account the drawbacks of wood stoves. When compared to gas fireplaces, they demand more work and upkeep. In addition to frequently cleaning the ash and soot from the fireplace, you'll need to chop, store, and carry wood.
Not Good For Environment :
Additionally, there are often environmental limitations and rules that apply to the use of wood fires. Some localities have banned wood fireplace burns during specific times due to worries about air quality and pollutants.
Expensive :
On the top of the environmental issues, building a wood fireplace might be more expensive, particularly when accounting for the costs of proper venting.
Pros
Embracing tradition,
cracking sound and aroma,
authentic and real flame,
Cons
More efforts needed,
higher maintenance cost,
dangerous for the environment
Gas vs Wood Fireplace
Here is a quick breakdown of the main differences between gas and wood fireplaces:
| Points | Gas Fireplace | Wood Fireplace |
| --- | --- | --- |
| Convenience | Easy to use and requires minimal effort | Demands more effort and maintenance |
| Ventilation | Versatile; various venting possibilities | Limited; typically requires a chimney |
| Environment | Cleaner emissions; less impact on air quality | May face restrictions and burn bans |
| Installation cost | Generally affordable | Potentially more expensive |
| Ambience | Realistic flames; convenient heat source | Traditional, rustic charm |
| | | |
Environmental Causes in Detailed
It's important to recognise that wood fireplaces need tree chopping, which results in deforestation and a decrease in the amount of oxygen available for human breathing when evaluating the environmental impact. Natural habitats can be put in risk and the ecological balance upset by the ongoing demand for wood.

As an alternative, gas fireplaces are more environmentally friendly. By choosing petrol instead of another fuel, you help to protect forests and lessen adverse environmental effects. In addition to offering comfort and convenience, switching to petrol enables us to live more sustainably, which is good for both our houses and the environment.
Can CNG Be Used in A Gas Fireplace?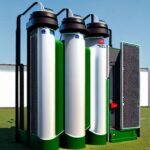 Absolutely! Also a practical and environmentally friendly choice for fireplaces is compressed natural gas (CNG). CNG is a more environmentally friendly fuel option because it burns cleaner than conventional wood or even gas. It results in less emissions, lessens greenhouse gas emissions, and improves air quality.
CNG can be used in place of conventional wood or gas fireplaces in the setting of fireplaces. CNG is a sustainable and effective heating option that is available with many contemporary fireplace models.
While taking use of the warmth and comfort of a fireplace, you can lessen your carbon footprint and contribute to environmental protection by utilising CNG.
Including CNG as a choice when comparing gas and wood fireplaces emphasises the need of looking for greener solutions that advance environmental conservation without sacrificing the advantages of having a fireplace in your house.
Conclusion
Your choices, lifestyle, and the particular needs of your home will determine whether you choose a gas fireplace or a wood fireplace. While wood fireplaces provide a timeless appeal and an authentic experience, gas fireplaces are renowned for their efficiency and convenience.
In order to choose the fireplace type that best meets your demands and improves the comfort and attractiveness of your living area, take into account variables like convenience of usage, venting options, environmental considerations, and installation costs.
If you are also looking for some excellent deals and a guide on the best Gas Stove, you can check our other article as well.