How To Put Out Oil Fire On Stove – Never Throw Water !
Let's examine the main causes of oil fires, crucial safety precautions and how to put out oil fire on stove if it happens.
While cooking in the kitchen offers delight and tasty meals to our tables, it's important to be mindful of any risks, especially when handling oil. You, your loved ones, and your property can be safeguarded from risk by being aware of oil fires, their causes, and the necessary safety precautions.
Identifying the Signals:
An oil fire might start abruptly, but there are typically warning signals prior to that. Watch the oil in your pan carefully. It's obvious that the oil is on the verge of catching fire if you observe it smoking heavily or if the smoke turns from black to white. When you notice these indicators, take quick action to stop a minor fire from spreading.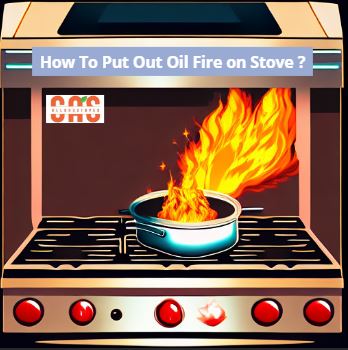 Why Water Is Not the Solution :
Throwing water to an oil fire is one of the riskiest things you can do. Water instantly vaporises when it comes into touch with burning oil, causing the oil to splatter and the flames to spread quickly.
Your safety and the area around you are seriously at risk because this reaction could start a huge fire.
How To Put Out Oil Fire On Stove ?

Never use water to put out an oil fire; this is a crucial safety precaution. Instead, follow these simple steps :

1. Eliminate the Heat Source :
Turn off the gas or electric hob right away to cut off the fuel source and stop the fire from spreading.
2. Cover the Pan:

If the fire is still contained to the pan, completely enclose it with a metal lid or a baking sheet. This will stop the flow of oxygen and put out the flames.

3. Use a Fire Extinguisher :
If the fire is spreading or becomes out of control, take a grease or oil-fire extinguisher and aim it at the flames' base. Keep a safe distance and don't forget to follow the extinguisher's instructions.
Fire Extinguisher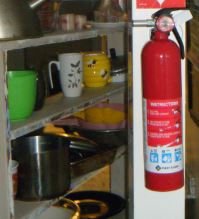 For Kitchen, Car, Shop, Garage
Material – Steel
Wall bracket included
Dry in form
2900+ Amazon reviews
Preventative Measures:
Avoiding an oil fire is always preferable to having to cope with its effects. To maintain a secure cooking environment, take into account the following precautions:
A. Pay Attention:
When using oil to cook, never leave the kitchen unattended. Distractions can have disastrous results.
B. Use Thermometer :
Make use of a thermometer to keep the oil at the proper temperature for cooking and prevent overheating. Oil's risk of igniting is considerably increased when heated past its smoke point.

Digital Thermometer for Liquid, Candle Etc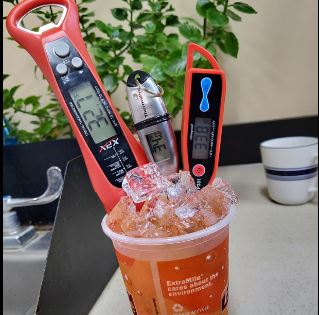 Instant Read with Waterproof
Use in Foods like Milk, Hot water, Ice
Battery powered
Upto 300 degree celcius
Digital
only 5 inches long
C. Keep a Lid Within Easy Reach :
If a tiny fire breaks out, keep a metal lid or baking sheet nearby so you can immediately cover the pan.
D. Keep Flammable Objects Far From the Stove :
Make sure to keep combustible items like drapes, oven mitts and kitchen towels a safe distance away from the stove.
Conclusion
Preserving kitchen safety requires awareness of the possible risks posed by oil fires and the adoption of preventative measures. You may save yourself and your loved ones from injury by being aware of the warning signals, avoiding using water as a put out, and being knowledgeable about how to properly put out an oil fire.
Recall to exercise caution, adopt safe cooking techniques, and place a high priority on kitchen safety.
If you are also looking for some excellent deals and a guide on the best Gas Stove, you can check our other article as well.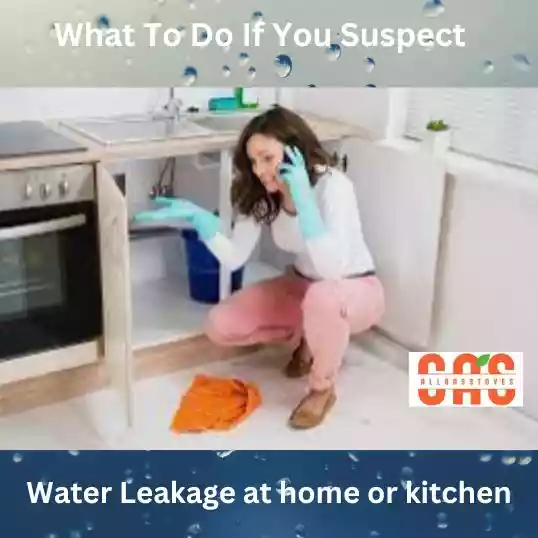 Read our garden related article :