A Step By Step Guide To The Best Home Theatre Design
We will examine the crucial components that go into creating an engaging and entertaining home theatre experience in this extensive guide. These tips will assist you to have the best home theatre design, whether you do it from scratch or remodelling an existing one.
Layout Design for Best Home Theatre Design
The layout of the room, as well as the location of the speakers, the control of the lighting, and the sight lines, must all be carefully considered when designing the ideal home theatre.
Room Dimensions and Acoustics :
Any recording engineer will emphasise the importance of the effect that room size has on sound quality. A wonderful fundamental shape for your room can be achieved by adhering to certain ratios. 1:1.6:2.6 is the golden ratio.
Golden Ratio – 1 : 1.6 : 2.6
A room with a 10-foot ceiling should ideally be 16 feet long and 26 feet broad. With these measurements, sound distortion is reduced and the bass is more evenly distributed throughout the main seating area.
Ceiling 10 ft , room inner space – 16*26 ft
Speaker Placement and Layout Considerations :
Although there are optimum speaker placements, space limitations may prevent them from being used. Thankfully, there are problem-solver speakers available that guarantee superior sound quality even in less-than-ideal room arrangements.
Make sure the seating area is centred, the speakers are positioned equally apart on either side of the screen, and the screen wall is normally the shorter wall when deciding how to arrange the speakers.
For increased comfort during prolonged viewing periods when using a front projection system, think about positioning the front speakers behind the screen.
Ideal Screen Position and Size
Place the screen at eye level for an immersive viewing experience. A common rule of thumb is to aim for a screen bottom that is 30 to 36 inches off the ground.
Keep Screen bottom 30 to 36 inches off the ground.
Because it can cause neck pain, installing the screen above a fireplace should be avoided. Use manual or power TV mounting brackets that allow simple adjustment for comfortable viewing, or install it as low as feasible.
Based on elements like seating distance and room dimensions, consider the screen size.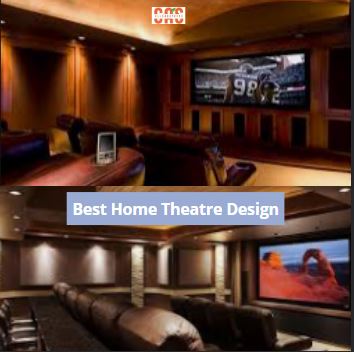 The ideal screen size for your particular room configuration can be determined with the aid of our interactive design tool.
Sight lines & Paint
The right paint and lighting selections are essential to setting the ideal mood in your home theatre. Use blackout drapes or window coverings to stop light from penetrating the screen.
To further reduce light reflection and improve contrast, think about painting the walls and ceiling with a dark, matte or flat finish, especially dark grey. To improve the theatre experience, task lighting, accent lighting, and safety lighting can be carefully combined.
Lighting
A little convenience and wow factor are added by giving the lighting system remote control capability. Make sure that no viewer's sight lines are impeded while designing many rows of seating. To look unimpeded over the front row, use a riser for the rear row.
It is advised to use an 8-inch high riser, but if there is room, think about using a 12 or 16-inch platform for better vision. For footrest clearance, the riser's depth should be at least six feet.
Prefabricated risers or do-it-yourself alternatives are available for multi-row arrangements in living rooms or spare bedrooms.
Use 8 inches high riser, depth – 6 feet
Additional Support
When planning a home theatre space, it's important to pay close attention to the room's dimensions, acoustics, speaker placement, lighting, and sight lines. You may build a wonderful home theatre experience by adhering to the recommendations provided in this detailed guide.
Conclusion
We hope that this guide has given you useful tips and ideas for creating your own home theatre room. To care, wish you all the best for having an ideal and dream home theatre setup at your living room.
If you are also looking for some excellent deals and a guide on the best Gas Stove, you can check our other article as well.
Read our garden related article :