10 Easy & Inexpensive Tips to Protect Your Home While On Vacation
Almost half of all break-ins are the result of an opportunity, such as an unsecured door, an open window, or a poorly lit entrance. Unfortunately, a lot of people neglect to adequately safeguard their homes and instead rely only on cheap door locks.
It's important to secure your home to preserve your valuables while you're away as well as to ensure your safety when you're there. In this post, we'll look at ten quick, low-cost strategies to protect your home while on vacation.
Tips To Protect Your Home While On Vacation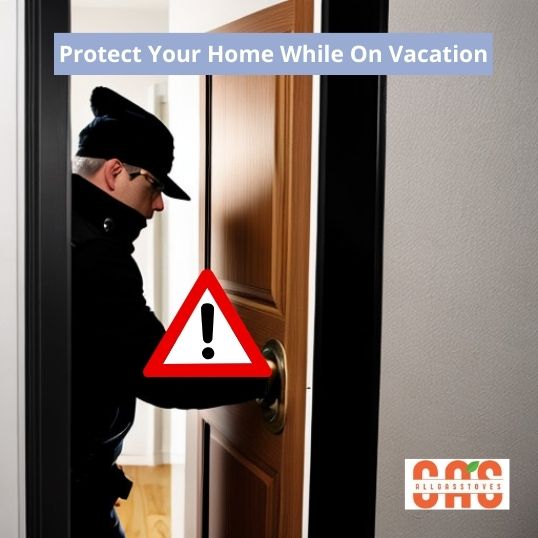 Window Locks
Studies regularly show that criminals like forcing windows or doors to get entry. Cheap and efficient window locks are available to stop unauthorised entry. You might give potential robbers the impression that your property is well-protected by protecting your windows.
Door Reinforcement Hardware
It is vital to fortify your doors because the majority of burglaries involve a straightforward kick to an ordinary door. You may buy door strengthening hardware, which fortifies your door's bolt and latch mechanism, for less than $20. It is substantially more difficult for intruders to enter thanks to the increased security.
Interior Flip Locks
Flip locks for interior doors are an inexpensive solution to improve indoor security. These locks are simple to install, great for protecting interior doors, and offer additional security in the event of a burglary.
Door Stops, Jams, and Barricades
Although house invasions are less often when occupants are present, it is still crucial to be ready. Doors can be made more secure by using doorstops, door jams, and barricade brackets, giving you valuable time to call the police or take the appropriate steps.
Home Security System
Think about making a purchase of a completely functional home security system. Numerous accessible alternatives provide 24/7 monitoring and a variety of functions. A dependable system can provide you peace of mind by alerting you to any questionable behaviour in and around your home.
Secure Sliding Glass Doors
Sliding glass doors are frequently disregarded places of weakness. To dissuade possible intruders, lock them tightly, utilise cylinder locks, and think about putting step-on locks.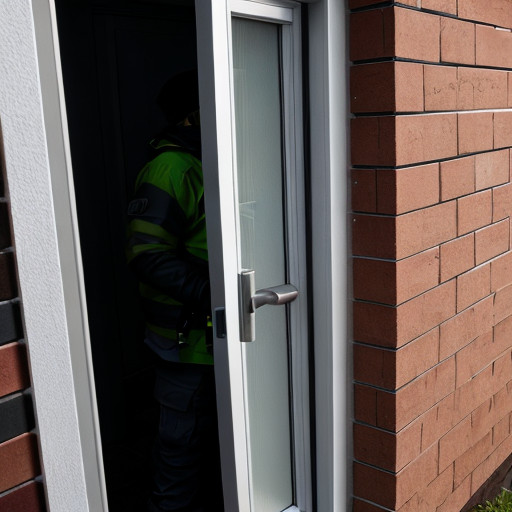 Door and Window Alarms
An additional degree of security is offered by entry sensors on doors and windows, especially when you are at home. To notify you of any unauthorised entrance, these sensors can be utilised as independent devices or incorporated into bigger security systems.
Lock the Garage Door
As your garage is a frequent target for thieves, security is essential. Use additional locks on any exterior doors leading to your garage and make sure your overhead garage door can be locked from the inside.
Solar Motion Lights
Solar lights that are actuated by motion are a great deterrent to potential burglars. They are inexpensive, simple to install, and, when motion is detected, they illuminate brightly to deter trespassers.
Lock Your Electrical Box
Remember to lock up your electrical box. Alarms and lights can be turned off by criminals simply interrupting power. By locking your electrical box, you guarantee the continued operation of these systems.
Bonus : Home Safe
For the protection of your most priceless possessions, think about purchasing a home safe. Safes are reasonably priced and offer a secure location to keep valuables like cash, jewellery, and essential papers.
| Aspects | Manual Locks | Digital Locks |
| --- | --- | --- |
| Key Mechanism | Relies on physical keys | Utilizes electronic codes |
| Access Control | Limited to physical key | PIN codes, biometrics, cards |
| Convenience | May require key retrieval | Easy code entry or card use |
| Security | Prone to key loss/theft | Enhanced digital security |
| Entry Methods | Single method (key) | Multiple methods available |
| Remote Access | Not applicable | May have remote access |
| User Management | Limited control | Extensive control options |
| Locking Mechanism | Mechanical components | Electronic locking systems |
| Customization | Limited customization | Programmable features |
| Audit Trail | No audit trail | Digital logs of access |
| Integration with Smart Systems | Not integrated | Can integrate with IoT |
| Battery Dependency | Not battery-powered | Requires power source |
| Cost | Generally cost-effective | May have higher upfront cost |
| Installation Complexity | Simple installation | May require professional setup |
Conclusion
In conclusion, improving the security of your home doesn't have to be expensive or difficult. By putting these inexpensive security tips into practise, you and your family can enjoy greater protection and a lower danger of break-ins.
Taking these safeguards can make your property a less desirable option for burglars because they tend to target properties with the fewest security measures in place.
FAQ : House Safety
1. Are these security hacks suitable for both homeowners and renters?
Yes, the majority of these security measures are reasonably priced, and both homeowners and renters can use them. However, tenants should speak with their landlords before making any alterations, such as reinforcing doors.
2. Do these hacks require professional installation?
No, these hacks are created to be user-friendly and are frequently installable without assistance from an expert. Most goods come with instructions.
3. How effective are motion-activated solar lights?
Solar motion lights are quite good at keeping intruders away. When motion is detected, they illuminate brightly, making it difficult for burglars to sneak up on your property unseen.
4. Can I install a home security system myself?
Numerous home security systems are made for simple do-it-yourself installation. Without expert guidance, you may configure these systems to meet your needs.
If you are also looking for some excellent deals and a guide on the best Gas Stove, you can check our other article as well.