Beware of These Top 5 Moving Company Scams: 10 Red Flags To Identify
It's critical to comprehend frequent moving company scams and recognise them in order to protect your relocation and possessions.
Moving to a new house is a thrilling experience, but it can also go horribly wrong if you fall for moving scams. Unsuspecting customers are taken advantage of by dishonest business owners.
Top 5 Moving Company Scams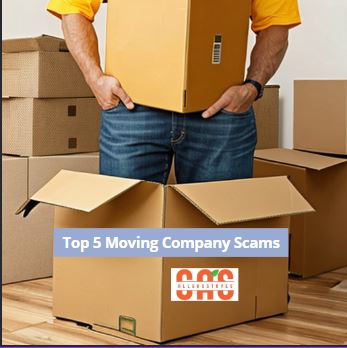 Scam 1: Bait and Switch Pricing
This con involves providing a low estimate up front, then raising the price once your belongings have been loaded. These business owners demand additional advance payments, which can occasionally result in outright theft of your belongings.
Scam 2: Hidden Extra Charges
Some movers give you an estimate, but once they have your belongings, they charge you a tonne more money. This makes the initial estimate useless and frequently leads to expensive fees or the auctioning off of your possessions.
Scam 3: Property Weight and Size Judo
In order to overcharge you, dishonest movers lie about the weight and size of your possessions. Some even substitute cubic feet for weight, which makes it difficult for clients to check and might result in unforeseen fees.
Scam 4: Unwittingly Hiring a Broker
Online brokers make low price claims but match clients with uninsured or unlicensed movers. They frequently lead to poor service or additional unanticipated costs and demand upfront deposits.
Scam 5: Delivery Problems
With untrustworthy movers, problems with deliveries : late or absent altogether—are frequent. You can be without your possessions for a while if properties are detained, abandoned, or delayed for a number of reasons.
10 Red Flags to Spot Moving Scams:
Lack of Company Information
Phone Estimates Only
Excessive Down Payment Demands
Suspiciously Low Bids
No Written Estimates
Unrealistic Quotes
Misleading Insurance Claims
Cash-Only Payments
Unmarked Trucks
Dubious Online Reviews
How to Find a Reliable Mover:
Call the FMCSA to confirm the mover's licence number.
Look for ratings and reviews on the mover's Better Business Bureau profile.
Check for the American Moving and Storage Association's "Pro Mover Programme" certification.
For precise pricing, request numerous in-home estimates.
Conclusion
Moving scams are a genuine concern, but by arming yourself with knowledge, you can defend yourself against dishonest businesspeople. By identifying these ploys and exercising caution when choosing a moving company, you can guarantee a simple and secure relocation.
FAQ Related to Moving Company Scams
Q1: How can I protect myself from moving scams?
Be aware of common scams, double-check business facts, and always request written quotes.
Q2: Is it safe to rely on online reviews for choosing a moving company?
Since online reviews are susceptible to manipulation, it is preferable to use trustworthy resources like the Better Business Bureau.
Q3: What should I do if a mover demands excessive upfront payment?
Take care. Reputable movers often want a little down payment rather than a high up-front cost.
Q4: How can I ensure the accuracy of a mover's estimate?
Choose in-home estimates so that movers may accurately analyse your things and provide quotes.
Q5: Can brokers be trustworthy?
While some brokers are reliable, be sure they do their homework and only work with qualified and insured movers.
Q6: What is the significance of the "Pro Mover Program" certification?
The certification shows that a moving firm complies with particular requirements and rules, lowering the possibility of fraud.
If you are also looking for some excellent deals and a guide on the best Gas Stove, you can check our other article as well.