Best Baking Oven In India (Best oven for baking cakes at home 2023)
When it comes to baking, there's nothing quite as delicious as a freshly baked cake or pie.
But making that cake or pie in your kitchen can be a bit of a challenge, especially if you don't have a baking oven. That's where the best baking ovens in India come in handy. These ovens are specially designed to bake bread, cakes, pies, pastries, and other kinds of food. They're also versatile and capable of baking both small and large items.
So whether you're looking for a small, compact oven for your home kitchen or a larger oven that can accommodate larger items, the baking ovens are a great option. And, of course, if you're looking for the best baking oven in India, you also need to make sure that you choose the right one.
That means understanding your needs and what type of oven is best for you. So to help you choosing the best oven for baking at home we've included a buying guide and few helpful tips to help you so that you can make the best choice for your needs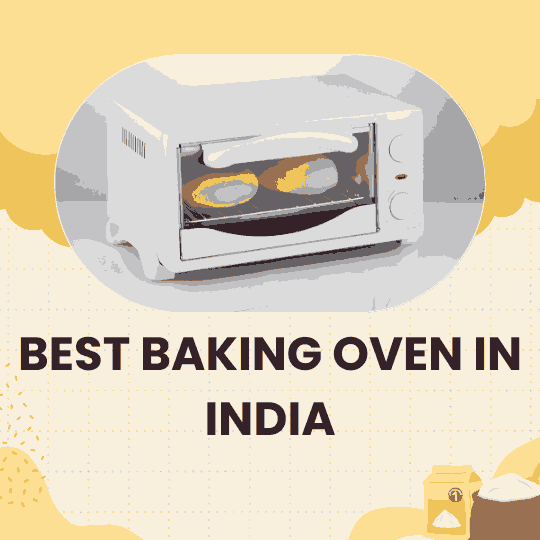 which is the best oven for baking cakes & bread? | Is OTG oven good for baking? |
Which is better for baking OTG or convection microwave?
Microwave ovens are basically designed for simple cooking and reheating food. In a convection oven, continuous air circulates, which causes uniform and even cooking. Nowaday, convection microwaves have a convection mode, which helps in baking, but they are not solely concentrated on baking. In the case of baking cakes and bread, this circulating air can make the surface hard and dry, which is not an ideal option for baking.
On the other hand, the OTG oven's have the heating coil at the bottom and at the top. This heating element converts electricity into heat. Due to this, food is cooked and baked at high temperatures. This type of heating creates a humid environment which gives you soft and fluffy cake and bread.
Below are the Best Baking Oven In India in 2023
1. Inalsa Oven Masterchef 24RSS OTG (For Family Size 2 – 3)
The Inalsa 24-litre OTG table top oven is a great appliance for anyone looking for easy and convenient cooking. With its easy-to-use controls, it's perfect for anyone who wants to cook simple dishes quickly and efficiently.
My favourite use of the Inalsa 24-litre OTG is making pizza and cake. Is is one of the cake baking oven for home. It's perfect when you just want something quick and easy to prepare food – without all the fuss! It's super light and easy to shift around, so it's perfect for smaller kitchens or apartments.
Plus, with its convection function, it cooks the pizza evenly and quickly, resulting in a delicious and crispy crust. Overall, I highly recommend this baking oven for making pizza, garlic bread cakes, biscuits etc.
2. Borosil PRO 19 Liters OTG (For Family Size 2 – 3)
I've always been a fan of Borosil products, especially their ovens. I was really excited when I saw that they had released an OTG oven called the Borosil PRO.
The Borosil Pro OTG oven is amazing! I liked its six different heating modes, which makes it perfect for cooking everything from burgers to steaks. The best part? It doesn't take long to preheat, and you're good to go!
I decided to give it a try, and in just 20 minutes, the pizza was ready. The pizza turned out great, and the settings for the temperature were just right for my dish. The Borosil Pro works great for cooked cake, chicken tikka, paneer tikka, pizza, potato chips, and almonds that have been roasted. It gets very hot when cooking and cools down quickly, making it perfect for cooking all kinds of food.
3. Morphy Richards OTG Besta 40-Litre Oven (For Family Size 4 – 5)
I was so excited to get this Morphy Richards Besta Oven! I had been looking for a large oven for a while, and this was the perfect one. It worked great, and there was enough room to cook two pans of cookies at once. I loved the features like the Rotisserie and the warming it came with, like the oven racks and the timer.
The packaging was very good, and the design and aesthetic of the product were good too. It adds some character to my kitchen space. I wished it had come with two oven racks, but overall it is a good product at a reasonable price.
4. Bajaj Majesty 2800 TMCSS 28-Litre Oven (For Family Size 4 – 5)
I had always wanted an OTG oven but never could afford one. When I saw the Bajaj Majesty 2800 TMCSS online, I knew it was meant for me.
The first thing I noticed was that the oven was easy to handle. The cakes, buns, and bread all came out well. We even baked two plain cakes as a test, which tasted satisfactory. There was no weird rubbery, or burning smell, and the cakes and cookies turned out super yummy.
The rotary grill makes cooking food so much easier and more fun. I could easily grill a whole chicken without any difficulty at all. The convection mode really helped to cook my food evenly and quickly. The add-on features like the crumb tray, and the coming rack were also great quality.
The convection mode is a big plus for me, as it helps to ensure even cooking/baking throughout the oven. Overall, this oven is fantastic – easy to use and absolutely packed with features! I highly recommend it if you're looking for an affordable and high-quality appliance for your kitchen.
5. Morphy Richards 52 RCSS 52-Litre Oven (For Family Size 4 – 5)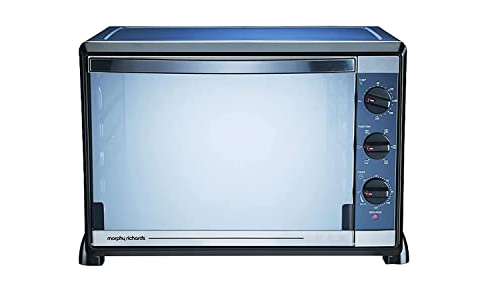 I had been eyeing this oven for a while, and I finally decided to buy it. After reading all the reviews, I was confident that it would be a great purchase. The product arrived quickly, and it was very easy to set up.
I have used it for baking cakes, breads, buns, cookies & pizzas. It has also been great for grilling fish, vegetables (skewers), rotisserie chicken and toasting. The quality of baking/grilling is definitely outstanding.
The fan/convection & rotisserie switches are very user-friendly. This oven is definitely perfect for anyone who wants to bake their favorite foods!
The oven is very sturdy and comes with a lot of attachments (2x 8″ pizzas can fit on one tray). It's also spacious enough to bake multiple cookies, muffins, etc. It accommodates 2x 8″ pizzas on one tray easily. And it can house 3 trays too!
Overall, I'm really happy with this purchase, and I recommend it to anyone looking for an excellent oven for baking/grilling purposes.
6. Bajaj Majesty 4500 TMCSS 45-Litre Oven (For Family Size 4 – 5)
I was really excited to get my Bajaj Majesty 4500 TMCSS 45-Litre Oven. It is very easy to use and heats up quickly.
The large capacity is great since I usually have to bake and cook in large quantities. The rotary cooking feature is amazing – you can grill a complete chicken easily with it.
The convection function is also great, helping to cook the food evenly. It arrived in great packaging, which made it very easy to take apart and use.
It takes a little time to cook food compared to a microwave but it is healthier than using a microwave. Overall, I am really happy with my Bajaj Majesty 4500 TMCSS 45-Litre Oven and would highly recommend it to others.
How to choose the Best Baking Oven In India?
When it comes to choosing the best baking oven in India, there are several factors to consider. Here are some of the most important factors to consider when selecting the best baking oven for your needs:
Size of the oven:
The size of the oven is an important factor to consider when selecting the best baking oven in India. Depending on the size of your kitchen, you will need to choose an oven that is the right size for your needs. If you are looking for a large oven, you will need to make sure that it fits in your kitchen.
Features:
Different baking ovens come with different features. Some ovens have additional features such as convection baking, self-cleaning, and digital controls. Consider the features that you need and select the oven that offers them.
Price:
The price of the oven is also an important factor to consider. You should select an oven that is within your budget.
Brand:
It is important to select an oven from a reliable brand. This will ensure that you get a quality product that will last for a long time.
Warranty:
Many ovens come with a warranty. This will provide you with peace of mind that your oven is protected in case of any defects or issues.
Energy Efficiency:
Select an oven that is energy efficient. This will help you save money on your electricity bills.
By considering these factors, you can select the best baking oven in India for your needs.
FAQ's
Q.1: Which is the best oven for baking cakes at home?
The OTG oven is best for baking cakes, bread, and pizzas.
Q.2: Which bakeware should we use while baking cakes in an OTG oven?
You can use cast iron, ceramic, borosilicate, and silicon bakeware.
Q.3: Which are the best OTG ovens for home bakers in india?
Some of the best otg oven for baking include Bajaj,Morphy Richards ,Borosil and Inalsa.
Q.4: Can we use normal oven for baking?
Yes, you can also use a normal oven for baking, but OTG ovens are best for baking.
Conclusion
Most of us use our ovens on a daily basis without really giving it much thought. We turn it on, set the temperature, and pop whatever we're cooking in without a second thought. But if you're new to baking, or you've never really taken the time to understand your oven, the whole process can be a bit daunting.
Firstly, give some time to understand your oven. Understand how your oven works and its capabilities, and the whole process becomes a lot easier. A couple of times, you may expect some trial and error. But once you hold on it you will bake perfect cake for your family.