How Does Air Conditioning Affect Our Health – Top 3 Side Effects of AC
How Does Air Conditioning Affect Our Health?
Many people seek comfort in the cool atmosphere of air conditioning during the hot summer months when their home might feel like an oven. It's no secret that air conditioning provides welcoming environment from the intolerable heat, but have you ever thought about how it can affect your health?
This in-depth investigation explores the complex connection between air conditioning and wellbeing. To assist you in making wise choices about maintaining a cool indoor environment, we examine how air conditioning functions, analyze the potential health effects, and weigh the advantages and disadvantages.
How Air Conditioning Works
It's crucial to comprehend how air conditioning functions before moving on to the subject of health impacts. A network of coils carry chemical refrigerants powers.
These refrigerants cool the air by absorbing heat from the atmosphere. The heated air is then discharged outside, and the cooled air is circulated inside your room, frequently after passing through HEPA filters to improve the quality of the air there.
This procedure may appear harmless at first glance, but its impacts on health are much more complicated.
How Does Air Conditioning Affect Our Health?
The Immune System and AC
The complicated connection between air conditioning and health has long been the subject of studies. Some researchers warned that exposure to cold air on a regular basis could impair the immune system, leaving it more vulnerable to viruses and diseases.
Although there are many different opinions on this, it emphasizes the necessity to combine comfort with keeping a strong immune system.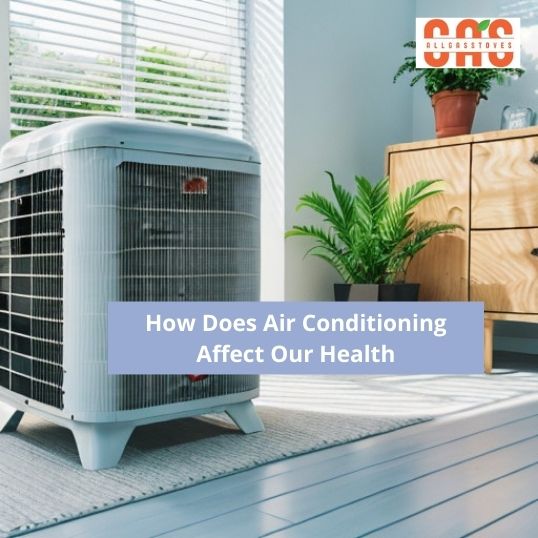 Dry Air and Mucous Membranes
The drying of indoor air is a prominent side effect of air conditioning. Air conditioners remove moisture when they chill the air. Although it makes the surroundings cozy, it could also have unforeseen negative health impacts.
The mucous membranes in the ear, nose, and throat can be impacted by dry air, thus increasing their chance of being affected by infections. It can open the door for viruses especially in areas with a high AC usage.
Pros and Cons of Air Conditioning
Pros
Relief from Summer Heat:
Unquestionably, air conditioning's main advantage is that it provides relief from the oppressive summer heat. It makes your house, place of business, or car into a cool retreat .
Better Indoor Air Quality:
Filtration systems are frequently included in air conditioning systems. For example, HEPA filters can capture pollutants, allergens, and airborne particles, improving the quality of the air inside a building.
Improved Comfort for Health Conditions:
Air conditioning can be a lifeline for people with certain health conditions that are made worse by heat, such as respiratory problems or allergies. They can breathe more easily in a regulated atmosphere because of it.
Cons
Energy Consumption and Environmental Impact :
Electricity is extensively used by air conditioning. A major amount of electricity units is consumed by air conditioners during the sweltering summer months. This creates a high negative problems for the environment also.
Health Concerns :
While air conditioning can be comforting, particularly in hot weather, it can also have negative health effects. Long-term exposure to cold, dry air may cause respiratory troubles, dry skin, and other health problems.
The Link Between AC and Illness:
People who work in air-conditioned spaces, for instance, might take more sick days or see doctors more frequently. These relationships, nevertheless, are intricate and could be influenced by other variables.
FAQ : How Does Air Conditioning Affect Our Health
Does air conditioning make you sick?
Although there isn't a direct connection between air conditioning and disease, several research indicate that frequent exposure to cold air may impair immunity.
How does air conditioning affect energy consumption?
Electricity use for air conditioning is high, which raises energy costs and contributes to environmental degradation.
What is the optimal indoor temperature for health?
Around 70°F or 20°C is the ideal interior temperature for balancing comfort and energy efficiency. Extreme temperatures, whether they are too hot or cold, can have an effect on energy use and health.
Conclusion
Undoubtedly, air conditioning has two sides to it: while it might provide relief from the summer heat, it also poses a risk to both your health and the environment. It is crucial to strike a balance between sustainability and comfort.
Make good decisions and be knowledgeable on how it affects the environment and your health to get the best of both worlds. Keep in mind that your health should always come first.
You May Also Be Interested In
If you are also looking for some excellent deals and a guide on the best Gas Stove, you can check our other article as well.